ANDIS SUPRA LI 5 ADJUSTABLE BLADE CLIPPER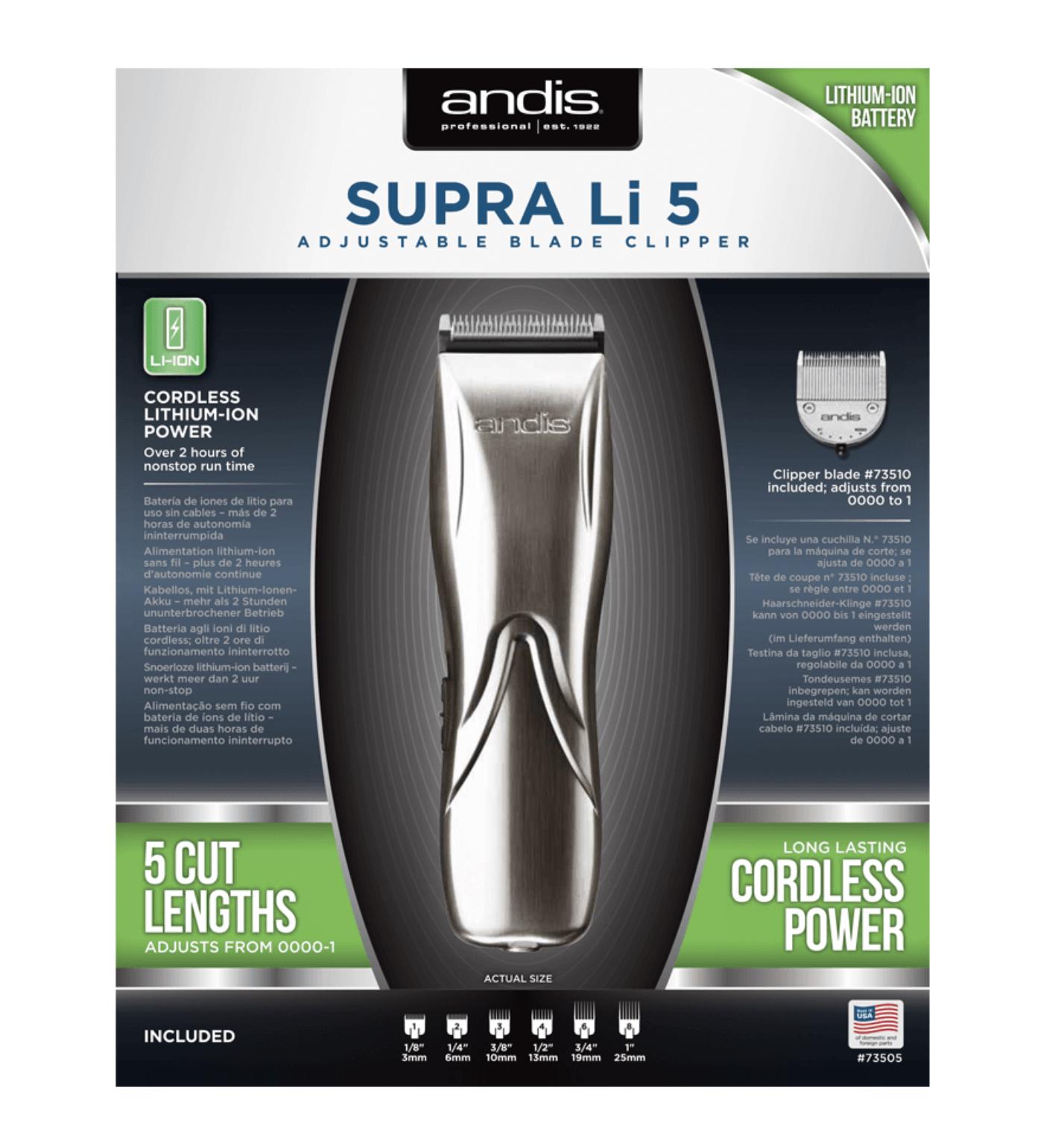 ANDIS SUPRA LI 5 ADJUSTABLE BLADE CLIPPER
Andis Supra Li 5 Adjustable Blade Clipper
Lithium-Ion powered battery for robust and long-lasting power

Features up to 2 hours of run time and charges in 90 minutes or less
Weighs less than 10 oz., perfect for all day, ergonomic use that won't weigh you down
Cord/Cordless operation for reliable power to last you all day long
High-speed 5-position adjustable blade (0000 to 1)
Six attachment combs: 1/8", 1/4", 3/8", 1/2", 3/4", 1"5
The Andis Supra Lithium 5 Adjustable Blade Clipper is ideal for all-round cutting, while delivering cord-free convenience.
The clipper has a powerful rotary motor that works at 5,500 SPM. Utilising a high-speed 5-position adjustable blade from 0000 to 1. Andis Supra Li 5 Adjustable Blade Clipper uses a lithium-Ion powered battery for robust and long-lasting power. A clipper that charges within 90 minutes, while possessing 2 hours of run time.
A lightweight machine, weighing less than 10 oz, ergonomically designed to be comfortable, a perfect clipper for use throughout the day. With both a Cord and Cordless operation so can even be used while charging.
Includes:
Charger Stand
Charging Plugs
UK Power Adapter
Blade Oil
European Charger Adapter
Six attachment combs: 1/8", 1/4", 3/8", 1/2", 3/4", 1"5