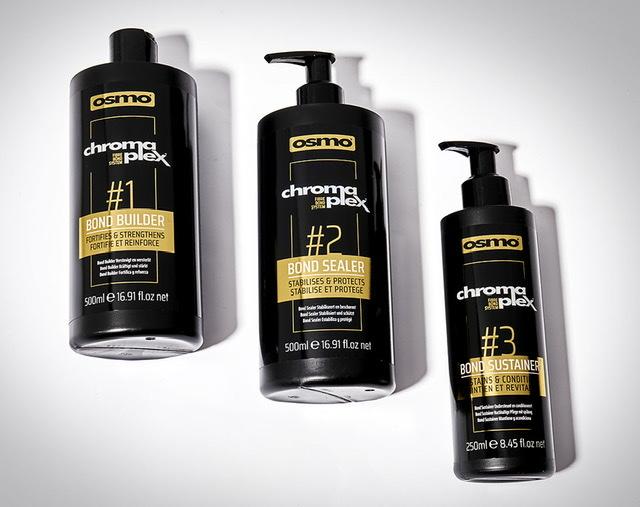 OSMO CHROMAPLEX™ BOND BUILDER
Strengthening hair treatment formulated with Fibre Bond Technology and anti-breakage benefits.
HOW IT WORKS
CHROMAPLEX™ Bond Builder #1 is designed to provide optimal strengthening and anti-breakage benefits when mixed with any professional colour/bleach treatment. Formulated with Fibre Bond Technology, hair is protected throughout the chemical process resulting in less damage, increased shine and incredible vibrant colour. Follow with CHROMAPLEX™ Bond Sealer #2 is a protective, nurturing treatment cream that stabilises the strenghtened bonds formed in step 1. Applied after the colouring/chemical/treatment process to maximise hair strength, Bond Sealer helps seal the hair shaft for smoother, sleeker, more vibrant colour results. 
An ultra-conditioning 'at home' treatment with Fibre Bond Technology. Use CHROMAPLEX™ Bond Sustainer #3 twice weekly to maintain hair strength, sensational shine and suppleness. Containing the same active ingredient found in Steps 1 & 2, this strengthening conditioner continues to links bonds within the hair maintaining strong, healthy hair for longer.
HOW TO APPLY
STEP 1 - Bond Strengthening Formula. Prepare the bleach or your chosen hair colour according to the manufacturer's directions. Add the recommended amount of CHROMAPLEX™ Bond Builder and mix thoroughly. COLOUR/BLEACH: Add 3ml per 30ml of mixture. Allow bleach/hair colour to process according to the manufacturer's directions. Allow extra time as necessary for high lift or bleach. Check processing results carefully. Rinse hair thoroughly. Shampooing is not necessary unless applying toner for double processing. Towel dry and follow with CHROMAPLEX™ Bond Sealer. Rinse, then apply a small amount (approx 7.5ml) of CHROMAPLEX™ Bond Sealer #2, comb through and leave to process for approximately 10 minutes (depending on the condition of the hair). Rinse thoroughly and style your new, beautifully conditioned hair as normal. 
CHROMAPLEX™ Sustainer #3. Shampoo hair as normal and towel dry. Apply a small amount of product from roots to tips. Comb through. Leave for up to 10 minutes before rinsing thoroughly.