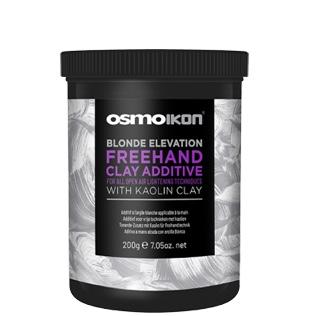 OSMO FREEHAND CLAY ADDITIVE 200g
Kaolin based additive created to thicken OSMO IKON® bleach.
HOW IT WORKS
A Kaolin Clay based additive designed to thicken any OSMO IKON® bleach formula for a creamy 'stay in place' texture. The perfect solution for all open-air techniques, Freehand Clay Additive encapsulates the hair without compromising the lightening power, allowing for more precise application with limited transfer. The ideal balayage partner. Completely cruelty-free. 100% vegan friendly.
HOW TO APPLY
Measure 10g of Freehand Clay Additive into a plastic mixing bowl. Add 30g of bleach powder and 60ml of developer (1:2 ratio). Mix to a smooth paste with a non-metallic application brush. Apply to dry hair. Process for 20-60 minutes depending on the developer and the hair. Check the hair regularly and wash off the paste thoroughly when the desired effect is achieved taking care to remove all chalky residue. Remove the paste immediately if the client's hair or scalp shows signs of damage.
SUITED TO
For professional use only.